Review: Falling off the jewel-matching wagon never felt so good.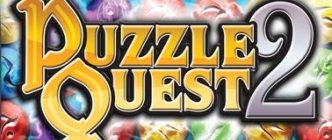 Hi, my name is Troy and I'm a junkie. An RPG jewel-matching junkie.
You see, back in October 2007 this evil group of Aussies ? who call themselves Infinite Interactive ? unleashed a horror upon the world named Puzzle Quest: Challenge of the Warlords. This nefarious piece of gaming software took a terrible toll on the world as people suddenly found themselves sucked into a quirky world of gem-matching RPG battles. Relationships were abandoned, work commitments were forgotten, and personal hygiene was ignored as gamers simply could not put down this insanely addictive little game. Is it any wonder that the global economy collapsed a little over a year later? I think not. Damn those Aussies!
Since that time, Infinite Interactive has released several more RPG puzzle games in their effort for world domination. Unfortunately (or fortunately, as the case may be) these games never captured the magic or popularity of the original. Even their big budget follow up, Puzzle Quest: Galactrix, failed to suck people in.
And so gamers eventually ventured out of their homes and back to their normal lives, returning to work and helping rebuild an economy shattered by their gem-matching addiction.
Until now, that is.
That's because the long anticipated sequel, aptly named Puzzle Quest 2, has been released. And economic gods help us, it's just as fun and addicting as the original.
The basic premise is the same: you match gems on an 8x8 puzzle board to battle against a host of fantasy RPG monsters. What differs is the game's focus, which has tightened up in more ways than one.
For starters, the story primarily takes place inside an ancient castle, so you're now dungeon-crawling from room to room rather than traveling across the country. The view is isometric, rather than the previous flat world map, and pulls you closer into the game world. The micro-management has been dramatically toned down from the original; gone are mounts, seizing castles, capturing enemies, building your citadel, and forging new items. The number of attributes you can level up has also been reduced from seven to five, though the new attributes are much more useful than before.
You shouldn't worry that these changes have ?dumbed down? the RPG elements; rather, they remove a lot of complexity and focus on what makes the game fun: matching gems to kill uglies.
As before, matching colored gems gives you mana for spells, while matching skulls damages your opponent. The sequel introduces new gems, including a new color (purple) and the gauntlet, which gives you Action Points. These points are used to activate the new weapons, poisons, potions and shields that you can wield. Previously, these items only added passive modifiers to your character, but this time around, you can actively use them as long as you have enough Action Points. All of your items ? including passive armor and pendants ? can be upgraded if you have enough gold and resources (the latter of which are awarded at the end of each battle).
Gone are the purple XP stars and gold coins. Instead, you earn XP and gold after each battle or through several minigames like looting treasure chests, bashing down doors, picking locks, disarming traps or learning new spells. These minigames all use the same match-3 puzzle mechanic, but Infinite Interactive cleverly created an interesting variety by tweaking the objectives (like matching certain sets of gems) and changing the gem icons. There are also special boss battles that provide a unique weapon and even a resized board.
You choose to play as one of four characters: the sneaky Assassin, the tank-like Barbarian, the spell-loving Sorcerer, or the defensive Templar. Each has their own unique set of spells and exclusive weapons, armor and items. As before, you can gain companions but instead of providing you with passive modifiers, they only unlock optional spells. Unfortunately, both your character and companions have zero personality, unlike the likably quirky cast of the original.
The overly aggressive AI of the first game has been toned down considerably. Don't get me wrong, you'll still be assaulted by ridiculous combos that seem to go on forever, but these incidents are thankfully not as prevalent as before. Another welcome change is eliminating the penalty for making an illegal move. Previously, this would cause you to lose your turn and suffer five points of damage ? not fun, especially when you accidentally moved the wrong way. Now you just get an error message and are allowed to continue.
All of these changes add up to an evolutionary package that is ?the same, but different? in a delightfully addictive way. You will quickly be sucked back into the gem-matching world, with your mind pre-occupied on how to improve your character during those agonizing times when you're away from your console.
The anime-inspired artwork of the original has been abandoned in favor of a darker, more serious graphic novel style. It looks great, as do the cool spell effects. However, the serious nature of the artwork also spills over into the relatively uninspired story, which lacks the humor of the first game. Sure, there are funny bits here and there, but they feel forced and out of place with the darker setting. As a result, the game loses the charm and friendly feel that fans loved about the original.
The sequel's campaign is shorter and lacks anything to do after you finish. Fortunately, multiplayer returns with the one-on-one online battles we all fondly remember. A new addition is the cool Tournament Mode that lets each player pick four monsters from the campaign and pit them against one another. When one monster dies, it is replaced with the next one in the player's queue, while the opposing monster continues with its remaining health. This is a very fun mode that not only lets you play as the evil nasties from the campaign, but also makes you adjust your strategies based on each monster's unique abilities and spells. Unfortunately, this mode is offline only, which is a real shame.