News: George R.R. Martin's book series to become a video game.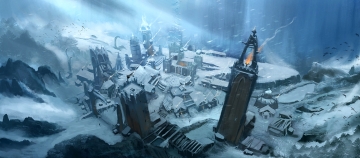 Cyanide Studio has revealed the first details of their video game adaptation of the famously long-running A Song of Ice and Fire series by George R.R. Martin.

The game will be known as A Game of Thrones: Genesis and it'll be a strategy game of "political prowess" and "military skill." It is currently in development for the PC and "next-gen consoles" with Focus Home Interactive performing the publishing duties in Europe. A North American publisher has yet to be announced.

According to Cyanide, A Game of Thrones: Genesis will "[plunge] you into the heart of the battles and intrigues between the Families that shaped the Kingdom of Westeros." And not all of these battles may take place on the battlefield:


[V]ictory does not necessarily result from brute force. The innovative game mechanics provide players with numerous paths to success: will you opt for a military, economic or diplomatic approach? Trickery, treachery and deceit are widespread and you will constantly have to watch your back if you want to avoid a bitter defeat!

Peacefully or forcefully annex surrounding territories, besiege enemy castles, send spies to infiltrate behind enemy lines, assassinate trouble-making officers or capture them to ask for a ransom... When you play the game of thrones, you win or you die. There is no middle ground!


We'll have more soon.