News: There will be no third season of the Xbox 360 quiz show.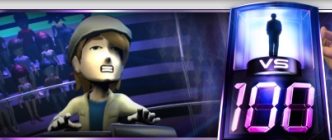 Microsoft has told
Kotaku
that their massively multiplayer quiz game
1 vs 100
will not be renewed for a third season.
The Xbox Live-powered game show featured a live host asking questions of "The One" (a randomly selected player who's Avatar appeared on screen), "The Mob" (a group of 100 players competing against The One) and The Crowd (everyone else). Players could win prizes and earn Achievements and Microsoft reported that the initial beta season once featured a Crowd of more than 114,000 simultaneous players.
"When we started on this journey, we knew we were creating an entirely new genre of entertainment that would be a continually evolving concept," said Dave McCarthy, General Manager, Microsoft Game Studios. "We're very proud of the 1 vs 100 team and their accomplishments, and are excited to apply what we've learned to future programming."
According to Microsoft, the 1 vs 100 team has moved on to other projects that will be unveiled "in the future."