Hands-On Preview: DKCR goes beyond nostalgia; it's two-player heaven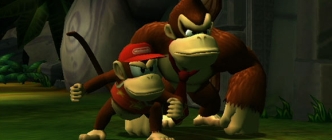 At E3 this year Nintendo announced a new game for almost every core franchise, between that and the 3DS; jaws were hitting the floor. What really had me drooling was their new Donkey Kong platformer, the aptly named Donkey Kong Country Returns.
The Donkey Kong series is a favorite of mine, so I had to try it on the E3 show floor. As soon as I heard the soundtrack, a giant wave of nostalgia hit me. The 2D style was immediately familiar; I was Donkey Kong again and I was running, jumping, swinging, and bouncing off the heads of my enemies. I fired myself out of barrel cannons, pounded the ground to find extra bananas, and, of course, chucked a few barrels, it was like riding a bike.
But Donkey Kong Country Returns isn't just a nice looking port of a Super Nintendo game. It's a true sequel in the style of New Super Mario Bros. Wii. Like that game, it takes the old school gameplay, sharpens the graphics, and adds some multiplayer mayhem to boot. DKCR can be played solo or cooperatively. In single player, the Kongs ride on each other's shoulders, allowing you to control both at once. Each Kong has a few special moves. Some are culled from previous games in the franchise, like Diddy Kong's jet pack (Donkey Kong 64 anyone?). Some are completely new, like Donkey blowing gusts of wind to shove enemies and uncover hidden treasures. For better or worse, the game is not too concerned with motion controls. The only one I saw was shaking the remote to pound the ground.
The multiplayer has the same user-friendly touches that made NSMBW such a winner. In co-op, if your partner dies, you can bust him out of a floating barrel. Also, players can catch a piggyback ride from each other, allowing a skilled veteran to ferry a newbie through a tough area. The NSMBW comparison is one Nintendo fans should be aware of. It seems this is becoming Nintendo's formula for turning their 8 and 16-bit classics classics into modern multiplayer hits. I wonder what other series will get this treatment (let us know what you think in the comments)?