Review: With my guitars and drums not being in LA at the moment, this is how I get my Guitar Hero fix.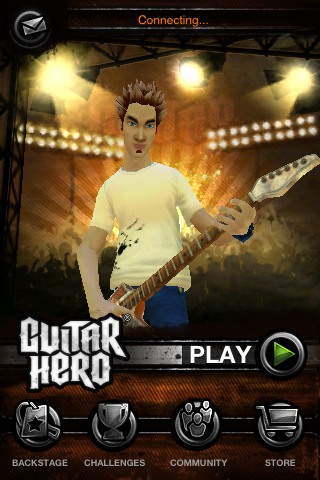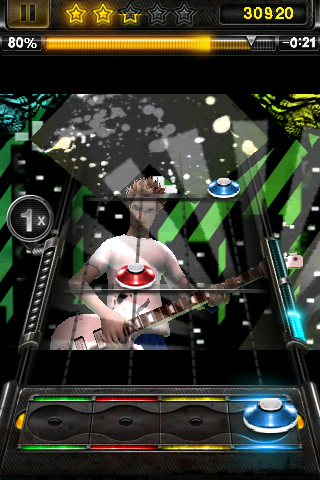 What was the biggest non-surprise at this week's WWDC 2010? Not that Steve Jobs unveiled the iPhone 4, but that Guitar Hero exists on the iPhone. This should have happened at WWDC 2009 or 2008, when game apps were first being unveiled on the iPhone and iPod Touch. After all, Guitar Hero is a $2 billion franchise for Activision and consoles, portables and other, inferior phones have received multiple iterations. Meanwhile, clones like Tap Tap Revenge dominate music games in the App Store. Tap Tap Revenge is on the third edition of its once unchallenged game app and EA brought Rock Band to the iPhone back in October.
Patented Guitar Hero elements: Feel at home while playing away from home
Thankfully, while Guitar Hero is fashionably late to the 'Pod party, it delivers a very familiar-looking experience that players will be instantly comfortable with. Tapping a streaming line of gem notes that start at the top of the iPhone and quickly move to the bottom ?note catcher? will feel like a routine operation for even modest gamers. The translation to hitting these music gems on the touchscreen is simple enough, but things get very difficult when holding the device and attempting to tap two gem notes simultaneously. Trying to hold the phone and use both of your thumbs at the same time can be cumbersome until you get used to tapping two separate fingers in unison for certain notes.
There are more patented Guitar Hero elements to make everyone feel at home while playing this game away from home. Gems with star tops fill your Star Power meter, sustained notes require holding your finger down on the touchscreen for however long the line stretches and slide lines allow for zipping your finger across the note catcher as a series of notes come in diagonally. Veterans should also recognize the orange accent gems that signifying a note that you can tap anywhere on the catcher. Although drum playing isn't a part of this game app, the wide accent icon is taken straight from Guitar Hero's console counterparts.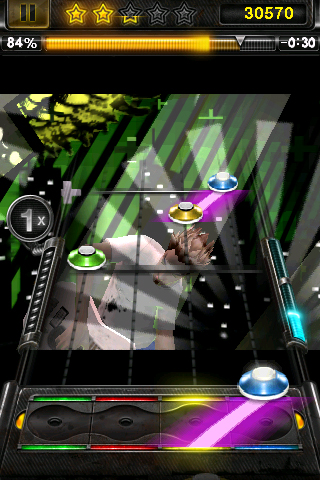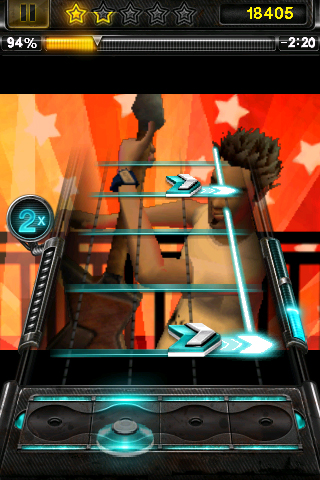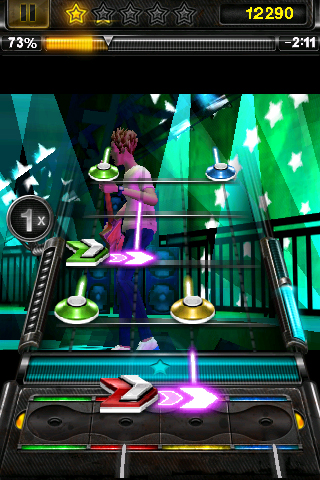 Strumming my phone with my fingers
Guitar Hero for the iPhone strikes a different note from its competitors by taking advantage of multitouch and introducing a strumming mechanic. Along with tapping an array of circular gem notes, players must swipe a number of strumming icons, either left or right depending on the arrow's direction. This, essentially, creates two new notes, but the left and right arrows feel more than just a fifth and sixth icon. Performing tapping and swiping gestures is enough to establish additional variety and challenge over Rock Band for the iPhone and mimic the real console experience.
Six-song setlist needs an encore
Where this $2.99 game app really differs from the copycat competition is in its price. It's cheaper than $6.99 Rock Band, but that app includes 30 free songs. Guitar Hero for iPhone comes with a paltry playlist of six songs:
?Paint it Black? by the Rolling Stones

?We are the Champions? by Queen

?Say it Ain't So? by Weezer

?Seven Nation Army? by The White Stripes

?Savior? by Rise Against

?Cousins? by Vampire Weekend

With a mix of popular artists, both classic and new, all of the songs are recognizable rock hits and fun to play. However, the quality isn't the problem, it's the quantity.

Guitar Hero vs. Rock Band for iPhone
Having a mere six songs to start out with for $2.99 and knowing that you'll have to pony up an additional $1.99 for three-song track packs is bound to make gamers uneasy at the micro-transaction checkout counter. Rock Band has five times as many songs for a little more than double the initial cost and it includes tapping to drum and vocal parts.

There's no reason Guitar Hero couldn't allow for a little harmony with the addition of drums and vocals - real vocals too, not tapping to the lyrical parts. If SoundHound identifies a song I'm singing by my off-pitch impersonation, there's no reason that vocals can't be an integrated into an iPhone game app. Also, speaking of harmony, there's also no reason that Bluetooth multiplayer couldn't be added because Rock Band does exactly that.

I will say that Guitar Hero has an easier to see interface, which is widely important for any mobile game on a 3.5-inch screen. So, while this game app presents a new strumming mechanic that is fun and simple to execute, Rock Band uses tinier fret icons that are frustrating. Guitar Hero also integrates well into the iPhone / iPod Touch with an immediate notification question: ?Use your iPod music library data to notify you when your favorite new artists are available in the game?? Songs may or may not be worth the expensive $1.99 price tag when that notification message does materialize, however, because track pack bundles contain different artists.

Extras
In addition to immediately shredding through quickplay, the main menu contains additional options like Backstage, Challenges and Community. Backstage is where you can customize your rocker's look and style, and then post a photo to Facebook. Tapping your rocker's body, which is laid out like a ragdoll, is how you intuitively zoom to and select options for the head, arms legs and shoes. It's a pretty detailed create-a-rocker mode for a mobile game. Selecting shoes, for example, allows you can set the color of the shoe AND a separate color for the sole.

The Challenges sub-menu is a list of ways to unlock more gear and earn bragging rights by performing certain tasks in the main game. With goals like ?Get star power four times in a row? or ?Hit 85% accuracy for this song on Hard,? the list is set up like Xbox 360 Achievements. The fact that there are 180 song, 40 guitar and 40 bass challenges helps the game's replay value (and the fact that there are only six included songs) immensely.