Special: Why leaks suck. No really, they suck water through a hole... ah forget it.
In the past few weeks, the existence of three never-before-seen games Sony planned to showcase at E3 have been confirmed. Another major title,
God of War: Ghost of Sparta
, was announced by the console maker themselves through their PlayStation.Blog a month ago. And rumors of a David Jaffe-developed
Twisted Metal PS3
continue to circulate (one of them started by Jaffe himself a year ago) with industry analyst extraordinaire Michael Pachter going so far as to apologize to the developer for "announcing" it early.
The PS3/PSP titles making their debut at this year's E3 should make any game fan weep with joy. Between sequels to beloved franchises and the biggest unveiling of the PlayStation Move motion controller to date, Sony will have a ton of amazing (and highly anticipated) games available at this year's show.
But once again, loose lips have sunk the industry's E3 ship, with Sony's battleship taking the biggest blow.
LittleBigPlanet 2
was revealed back in March by a low-level executive from Sony Benelux. Before his comments, did anyone even know Sony Europe had a Benelux division? Sony initially downplayed the leak (without denying the existence of LBP2), but would eventually officially announce the game in May.
Hints about
Killzone 3
emerged back in March when rumors of Microsoft's
Gears of War 3
announcement first surfaced. But all SCEA President Jack Tretton had to say was that Killzone 3 would happen someday. The real leak was the fact that a GamePro feature story on the game was uncovered just a few weeks before E3. I realize this was an intentional news release and not a leak per se, but it still smacks of poor information management.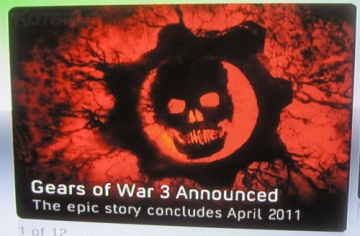 Speaking of Gears of Wars 3, Microsoft was the victim of their own leak when a (probably now fired) Xbox Live technician accidentally posted a "Gears of War 3 Announced!" ad ahead of the game's splashy Jimmy Fallon debut.
However, the leaked reveal of
Infamous 2
has to be considered the biggest blunder. A cryptic message promising information about a sequel to a favorite Sony franchise was used in a Next Issue tease of the Portuguese edition of Official PlayStation Magazine. The words were then matched with a very recognizable picture of Infamous' main character. Of course, a few days later Game Informer officially confirmed the game, presumably with Sony's blessing.
Even when a leak doesn't happen, Sony official announcements leave a lot to be desired.
God of War: Ghost of Sparta
was announced in early May with a low-key PlayStation.Blog post that didn't even have a trailer... just four tiny screenshots and a promise that more information would be revealed at E3. So why not wait until E3, surprise everybody, and get the gaming community talking?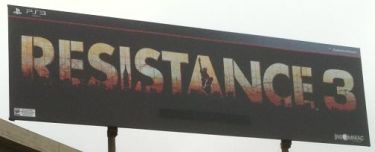 And if you go back far enough, even more leaks emerge. In October, Sony Pictures erected a giant billboard advertising
Resistance 3
for a background shot in the cheapo sci-fi film
Battle: Los Angeles
. While there's some debate over whether or not the ad is real or just being used for color, it's most likely real as A) the Resistance series isn't well known enough to be used as a background easter egg and B) the Resistance series is popular enough (and Insomniac works fast enough) that a third game will likely be in stores for
Battle: Los Angeles
' 2011 release.
While Sony has been hit hardest by all these leaks, third party developers are feeling the whoosh of rushing water as well. Leaked screenshots of the 2099 universe in
Spider-Man: Shattered Dimensions
emerged a few days ago, with Activision's pre-E3 trailer confirming their contents. Yes, it was assumed that the 2099 universe would show up in the game, but after the game's cool debut trailer, leaked screenshots are rather anti-climactic.
Finally, a big two-pronged leak might have possibly emerged from Square Enix. A few weeks ago, a domain registration and trademark application for something called
Mindhack
or
Mindjack
was revealed. And then a few days ago, a leaked trailer for something called NANO tasked players with "brainjacking" their enemies. Coincidence? Maybe, but more likely this is one of Square Enix's surprises.
Contrast these leaks with last year's
New Super Mario Bros. Wii, Super Mario Galaxy 2
and
Metroid: Other M
reveals by Nintendo. None of those games were on anyone's radar, nor was the Nintendo/Team Ninja partnership for Other M. Another Mario wasn't a shock, but to get two different games announced at the same show (with one of them in 2D) was insane. As for Other M, the Metroid logo and Samus Aran's familar visage weren't even revealed until a minute into the trailer, at which point the entire gaming community went "OMG! TEAM NINJA is doing the NEXT METROID GAME! Seriously, OMG!" The shock at such a collaboration was the source of half the excitement and the other half came from the fact that no one even knew it was a possibility until E3. That's how you do a big reveal.
But even Nintendo sprung a leak this year. The notoriously tight-lipped company announced the the 3DS, successor to their wildly popular DS line of handhelds, a few months ago. While no one from Nintendo has admitted as much, rumor has it the company put out the short press release revealing the existence of the portable system because component suppliers had already spilled the beans to a variety of Japanese newspapers. This is doubly embarrassing due to the DSi XL's then-pending release in America. Who wants to buy the latest refresh of a long-running handheld when the next generation upgrade is right around the corner?
In the end, it all goes back to David Jaffe and something he wrote on his blog back in February:
"[I]f game sites are going to report on every little rumor- no matter how solid or no matter how clearly full of [expletive]- then they must stop bitching about GDC and E3 not having any surprises.
But to use an overused net cliche: this is why we can't have nice things. Or more specifically, this is why the days of E3 and GDC being full of jaw dropping surprises are pretty much over."
Well said, Mr. Jaffe. Well said. But I'm still pretty convinced we're going to see a new Twisted Metal game at E3 next week.