Review: If anyone cheats in this game, an evil wizard alien made them do it. If you don't agree, then you're a turd in the punch bowl.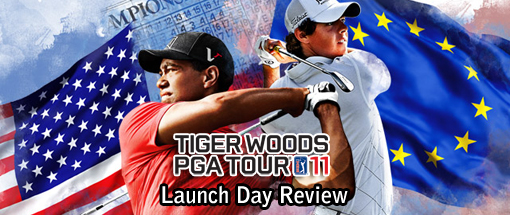 Thanks to a certain (ahem) scandal, golf in general and Tiger Woods in particular have received much more publicity in the past year than perhaps ever before. EA Sports knew this meant higher publicity for their next release, Tiger Woods PGA Tour '11, and a wider potential audience, posing a challenge of satisfying returning customers while pleasing the newer, broader market. After a few plays, I think you'll agree that the few tweaks to the system have managed to make the gameplay more realistic for the die-hards and still pleasant and enjoyable for the newbies.
Presentation
The most significant change you'll notice in the presentation is that Tiger Woods is no longer the solo face of the product. Rory McIlroy makes an appearance, albeit somewhat faint, in the background of the game's cover. According to EA Sports, this decision was made before the tabloids erupted, and was simply done to highlight the game's new Ryder Cup feature.
Ryder Cup
The Ryder Cup is a biennial event pitting the best American golfers against the best European golfers. In this mode, you choose a team of 12 golfers to take on an opposing 12-man team in successive games of Singles, Fourballs, and Foursomes. Within the mode, four successive matches take place between two-man teams drawn from your original group, and you have the option of switching between the matches to help whichever pairing is most in need. Overall, it's a fun mode that offers some diversity of play, highlighting a prestigious (and obscure) sporting event. If you have trouble allowing computer simulation to have some effect on your outcome, this mode is not for you. However, when online play is fully up and running, I can very easily see this becoming a huge hit as players team up with live counterparts from around the world for glory on the links. An additional positive to this feature is the inclusion of Celtic Manor Resort, a truly beautiful golf course and the site of the 2010 Ryder Cup.
Focus Meter
The most significant change in the gaming engine is the addition of a Focus Meter. At the start of each match, you'll have a full circle of focus that will deplete as you utilize accuracy boost (decreasing the radius of your aiming circle to improve your precision), power boost (tapping A on your backswing to reach 110% or more of your potential power on a drive), ball spin (tapping A and rolling the left analog stick to determine the spin after release), and putting preview (using the left bumper to preview where your putt will go after aiming). The big change here, of course, is that you can now preview your putt more than once, unlike in previous versions, but your focus should be used judiciously. You won't want to preview your putt four times in a row, or else you'll wish you had a little power boost left to nail your drive on the Par 5 that follows.
Wind Variability
The other two noticeable changes in the gaming are in the wind and the aiming circle. The wind is much more realistic and variable than past versions in the series. It could go from 1 mile-per-hour while you're aiming your shot to 10 miles-per-hour when you release, so be prepared and keep an eye on that upper-right-hand corner if you don't want to be fooled into hitting into a hazard.
Aiming Circle
In a similar vein of improving realistic gameplay, the nature of the aiming circle has been revamped. Unlike in Tiger '10, the ball will not hit the center of the aiming circle if you hit the ball exactly as planned. Instead, the sensitivity of the shooting engine will cause it to fall somewhere in the range of the circle. If you're aiming for a tighter spot, this is when you want to use a little Focus on an Accuracy boost.
Graphics/Audio
Let's be honest- there's not a lot EA could have done to improve these two elements from past incarnations. The courses are beautiful, and there are more of them. The commentary gets a little repetitive, but that's pretty true to golf in general, and you do occasionally get one of those Scott Van Pelt gems. On a particularly egregious putt that traveled way downhill, he started yelling at the ball to the effect of ?Come on, hit something, anything, a bunker, a water hazard, a spectator, a tower?? continuing well into my next (and only slightly improved) putt.