Preview: Transform and roll out! On Cybertron this time.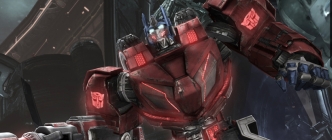 Creating a video game based off of a beloved franchise is always a daunting task. There are countless examples of games with good intentions that just don't measure up to the nostalgia of the source material. In many cases, not even the original cartoon, movie, or comic book hold a candle to how we remember them.
So, how exactly can a developer exceed our expectations and make a game that is worthy of the Transformers moniker? By setting out not to make the best Transformers game, but to make a great game that is also a Transformers game. This line of thinking is refreshing for a licensed property and developer High Moon Studios seems to be on the right track with Transformers: War For Cybertron.
Set before the events of the 1980's animated series, War For Cybertron is set on the Transformer's home world. Both the Autobots and the Decepticons will have their own campaign that puts you in the middle of their fight for control of the planet. The campaign is designed around three-player combat. If you have two friends, then you will be able to take advantage of three-player drop-in/drop-out online cooperative play. If not, then the game's AI will control your companions. Either way, the early gameplay videos highlight intense action and area-effect abilities that boost your comrades in combat.
War For Cybertron is going to be driven by third person combat with an on-foot gameplay mechanic that is reported to draw heavy influence from the Gears of War franchise is going to be complimented with the ability to transform into vehicle mode at-will. This feature is bound to be one of the biggest challenges and risks that High Moon Studios undertakes with the game but it also has the potential for the being the most memorable part of the game. If the balance and mechanic of this feature works well then it should create an experience that actually makes you feel like you are a Transformer.
One of the most important considerations when creating a video game based on a license that is as deep as The Transformers, at least for those of us that have fond memories of the original cartoon, is, ?Which of the characters will be in the game?? High Moon Studios is taking a healthy sampling of both the Autobots and the Decepticons for use in creating the playable characters in War For Cybertron. Each faction is set to include cars, trucks, tanks, and aircraft, each helping to ensure a varied and engaging gameplay experience when it releases in June. Here are the currently announced playable story characters, straight from the official website:
Autobots: Optimus Prime, Bumblebee, Ironhide, Warpath, Ratchet, Air Raid

Decepticons: Megatron, Starscream, Soundwave, Barricade, Skywarp, Breakdown

Liberties are being taken with each of the characters to fit in with the timeline, setting, and playability of the game. For instance, no one on Cybertron had ever heard of a Volkswagon or a Camaro so Bumblebee is just a futuristic yellow car.

As a bonus, there are also a handful of characters that will be available as pre-order exclusives, too. Much like Sergeant Johnson in Halo: ODST, Jazz, Shockwave, and Demolishor will be made available via an unlock code when you pre-order the game from Best Buy, GameStop, and Amazon, respectively. While not incorporated into the story mode, these extra characters will be playable in the multiplayer Escalation Mode. My money is on Jazz being at the top of the pre-order popularity list.

Even though the campaign alone is enough to have fanboys like me counting down the days until War For Cybertron releases, the multiplayer mode looks to pack enough punch to draw in even casual fans of the franchise. Game Informer recently (Issue 205, May 2010) gave us a first glimpse at the multiplayer side of the game including some gameplay details and information on customizing your own Transformer. Yes, that's correct, you get to make your own rig. With a customization structure not unlike that in Modern Warfare 2, the Create-A-Transformer mode is like a dream come true for many fans of the original series that spent their time crudely drawing new Transformers that would never see the light of day. Selections for this mode will include class (type of vehicle), weapons, and upgrades.

The official website includes a trailer for the new multiplayer information and there is a lot of information to be taken in while watching it. Here are a few of the details:


There are four classes: Scout (car), Scientist (jet), Leader (truck), and Soldier (tank)

Each class will allow you to select two weapons, two abilities, and three upgrades

Each class has their own set of kill streak rewards, available weapons, and available abilities

The transformation animations, especially those for the scientist class, are pretty badass.

So, back to the multiplayer modes. Game Informer let us know that there will be both team-based and free-for-all play modes including Team Deathmatch, Deathmatch, and Power Struggle (capture the flag) and Code of Power modes. There is also the Escalation Mode that the pre-order exclusive characters will be used in. There isn't much information out there on this mode, but the Xbox.com website refers to it like this: ?Team up with your friends and battle waves of enemies in Escalation Mode.? Sound like Horde/Survival/Firefight to anyone else?