News: Starkiller lives! Maybe... he might be a clone... which is still living, I guess.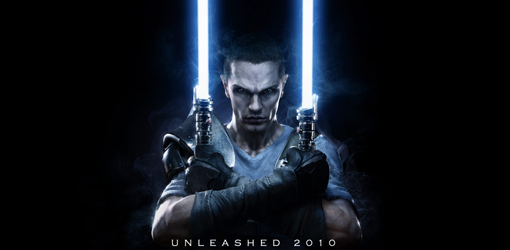 After months of coy teasing, LucasArts has officially announced that
Star Wars: The Force Unleashed II
will be coming to the DS, PC, PlayStation 3, Wii and Xbox 360 on October 26. Aspyr Media will be developing the PC version with Red Fly handling the Wii version. An internal LucasArts team (once again headed up by Haden Blackman) is working on all of the remaining versions.
In the sequel, Starkiller returns with over-the-top Force powers and embarks on a journey to discover his own identity and to reunite with his one true love, Juno Eclipse. In Star Wars: The Force Unleashed II, Starkiller is once again the pawn of Darth Vader?but instead of training his prot?g?e as a ruthless assassin, the dark lord is attempting to clone his former apprentice in an attempt to create the Ultimate Sith warrior. The chase is on ? Starkiller is in pursuit of Juno and Darth Vader is hunting for Starkiller.
Besides the bigger and badder Force powers previously revealed by the producers, gamers will be able to dual-wield lightsabers in The Force Unleashed II and Wii owners will be able to take part in four-player combat with the Force Showdown mode.
LucasArts has also relaunched the game's official website at
Unleashed2010.com
. The entire site now gives users a view from inside the cloning tank that "Patient 1157" (AKA Starkiller AKA Garen Malek) was grown in. Clicking around the tank will eventually trigger "memories" (better known as cutscenes from
The Force Unleashed
).
We'll have more soon.