Review: Alan Wake is actually finished? Pinch me, I must be dreaming!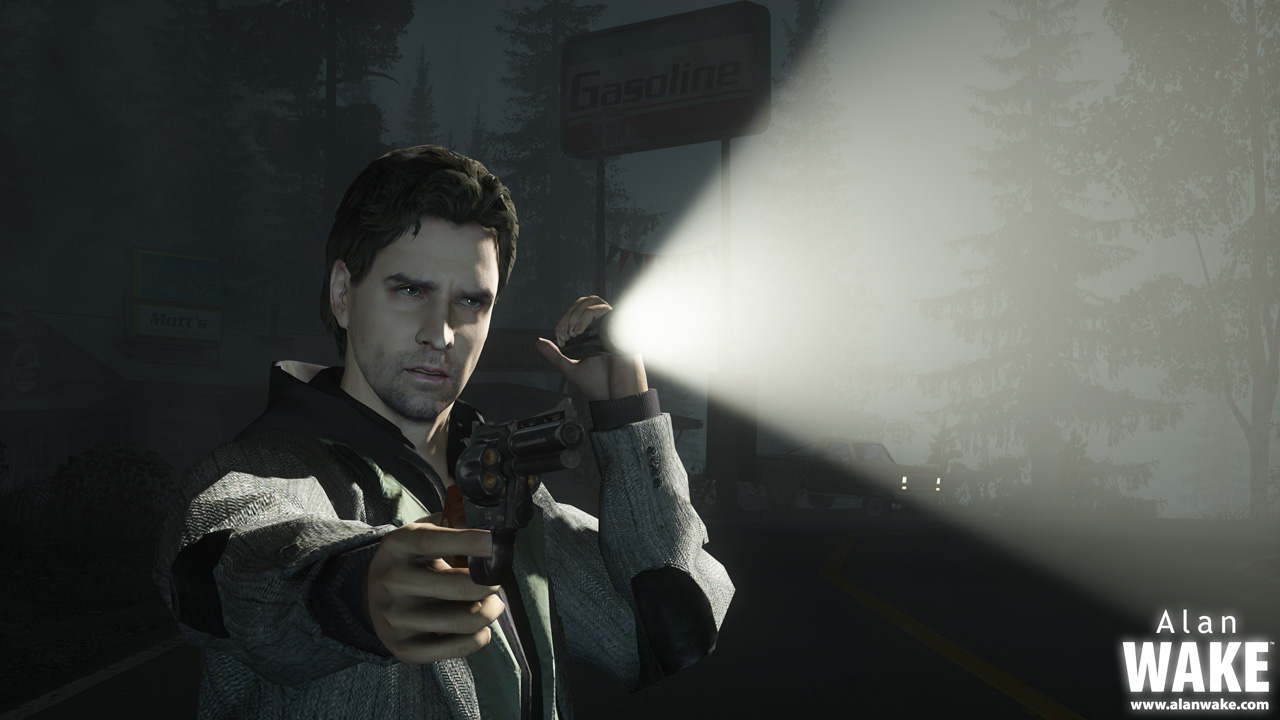 Alan Wake is the long-awaited psychological action thriller from Remedy Entertainment, the studio known for the highly revered Max Payne series. In development since shortly after Max Payne 2 shipped in 2003, Alan Wake has gone though a lot of changes over the years. It started as an open world game for both the PC and Xbox 360, but was later remodeled into a linear experience and eventually announced to be an Xbox 360 exclusive. There has been tons of speculation, delays and some doubts surrounding Alan Wake, but on May 18th it will finally be here. And if you're one of the people who has patiently waited, confident of Remedy's slow and steady attitude, well then, you are in for a treat.
Alan Wake is a thoroughly well made game. It is a perfect blend of tense action and psychological horror, and it becomes a unique and thrilling experience unlike any other game out there. The titular Alan Wake is a writer who has travelled, with his wife Alice, to Bright Falls, WA to combat his writer's block. Alan begins to write and the words seem to come alive off the page, almost literally, as events from the book begin happening in real life. Such as his wife's disappearance and monstrous demons that possess the town when night falls.
Okay, so get out your flare guns and hold on to your flashlights, boys and girls, because we're headed to Bright Falls, WA.
Right from the get-go it should be pointed out that Alan Wake has a rather distinct presentation. The game is broken up into six episodes, and each episode usually ends in a cliffhanger or revelation that plays out with a swooping camera and licensed musical accompaniment, much like a modern television drama. The next then begins with a short "Previously on Alan Wake..." recap. It's a fun little feature and each episode has a good chunk of game to it with a beginning, middle, and end. The episodes last from about 90 minutes to almost 3 hours, and you will most likely put in 10-12 hours total when it's all said and done unless you constantly sprint through the woods like a ninny. I can't lie and say I never did the ninny sprint myself after a few waves of enemies almost sliced my face off, but soaking up the atmosphere is a lot of the fun. I loved poking around every corner and checking out every abandoned shack, noticing the tension and dread rising in the incredible soundscape created for us by Remedy, rife with a never-ending sense of danger.
For instance, standing in a dark cabin between fights watching a creepy television program is unnerving. Especially when you turn and your flashlight just barely catches the dark shape of an axe wielding farmer outside the window, quietly coming to kill you. It's this type of stuff that puts Alan Wake above shock horror and it becomes a brooding and tense experience not many other games can provide. Although the game is linear, there are still times when you will feel lost and overwhelmed in the woods as the dark wind whips across the ground and trees all around you, ushering in the enemies that suddenly appear and start swinging at your throat. Remedy has done a good job of hiding the limitations of the levels by making them so creepy you want to stick to the paths, but I have to admit I'd love to have this kind of atmosphere in an open world game where you really could get lost.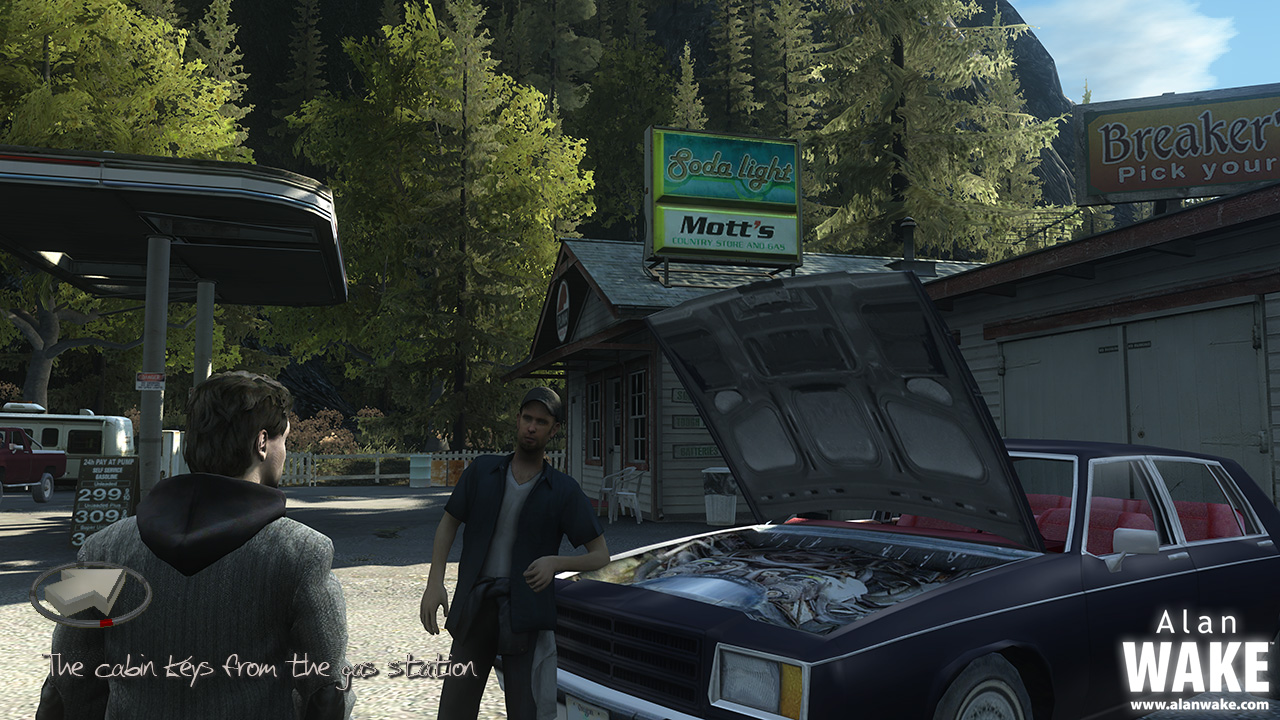 The gameplay is pretty diverse in Alan Wake. You will do a good deal of talking, exploring, solving some small puzzles, reading manuscript pages, and even driving here and there. Off the beaten path you can find some packages left behind for you, but most of the time you will be moving forward and into the combat, which is hair-raising to say the least. You see, the Darkness that is consuming Bright Falls is taking over people. These poor souls are known as The Taken, and they are vicious enemies that will usually appear around you in all directions looking for blood. Many times the only way to get in a good position against a group of targets is utilizing the dodge and sprint mechanic. Dodging works really well and can make for some impressive-looking close calls as your head barely avoids a flying sickle in slow motion. You can't sprint for a long time either, so enemies will constantly be in your face. I am not exaggerating. They are relentless.
Light plays a huge part in combat and adds a ton of tension. Every enemy, whether human or inanimate, is shrouded in darkness. To weaken and make it vulnerable to conventional weapons you need to shine some sort of light on it until its life bubble shrinks away. This is mainly done with the trustworthy flashlight, but a few other devices come in handy as the game progresses, such as flares and flashbangs.
Weakening the Taken with light can make for an intense experience. While you're focusing light on one enemy you can't help but feel like you're about to be blindsided. And many times you will be. It would be nice to have a slightly more varied array of Taken, as they only differ from each other in size and speed, not necessarily in how you combat them. However, Remedy manages to keep the game fresh with great pacing - you're never doing one thing for too long. One other small complaint about the combat is that the game is a little too forgiving with ammo on Normal. If you're looking to ratchet up the tension, which is what Alan Wake is all about, then play it on Hard. Only on Nightmare does the game almost reach survival horror levels of ammo count.
Still, there's a good mix of gameplay within combat, where it can quickly turn from a bullet-laden offensive assault to you scrambling backwards in a panic and literally running for your life like it's suddenly a slasher film. The game also loves to start you back at square one with regards to weapons, so you're never loaded up for too long.
Another good thing about Alan Wake is its cooperative AI. There are a few sections where you won't be blasting the Taken by yourself, but with friends, and they work really well. Your buddies won't get in your way, they'll patiently wait for you if you go off the path, and to top it all off they are effective in combat. During these sections the game is pretty much all-out action packed and the fast combat holds up on a larger scale. It's a pleasure shooting alongside AI in a horror game for once. Getting behind the wheel occasionally is a nice change of pace as well. Slipping into the safety of a vehicle after wandering in the dark woods for a good hour or so is a huge relief, and getting revenge on the Taken by plowing them over is a nice diversion from whimpering at the sight of them. But before you know it you'll be right back outside, anticipating the next ambush that you know is surely only moments away.
As you trek through the game you will also find pages of a manuscript you apparently wrote. This is a cool way to deliver bits of story because not only will they sometimes recall previous scenes or warn you of a future scenario (which is always eerie), but it can also give you details from the other characters' points of view in the same way a novel would. The writing doesn't quite match excerpts from classic horror novels (such as those by Stephen King, an obvious influence on Alan Wake) or the best of horror films, but it's very good for a video game and has that familiar, noir-ish Remedy tone that just seems to pull me in.
Overall the story is well done. It's a good mindbender that plays with your sense of reality and fiction in the game world. We're never sure what is actually happening and what is a hallucination. The entire idea of Alan's struggle with both the darkness and the story he is writing, as well as how he must go about surmounting it, is intriguing to me, and I look forward to the forthcoming episodes. The ending doesn't even come close to wrapping Alan's saga up, but is satisfying for a ?season? finale, and we'll leave it at that. As for replay value, it's single player only, but there is incentive to have another go at it. After beating the game you unlock Nightmare difficulty, which contains extra manuscript pages to find. And if you got as wrapped up as I did in the story, you'll definitely go for it.
Graphically Alan Wake is a mix. At times, during its shining moments at night when all hell is breaking loose around you, it can look astounding. It can be as beautiful in motion as any other game out there. Other times it can be slightly off. The facial animations look dated and some textures are noticeably low res in daylight. You will also notice some vegetation pop-in during the day, and short moments of screen tearing, but these glitches only happened seldomly. The lighting is incredible and has many uses and forms throughout the game. The ghostly soundtrack builds perfectly in context to what is happening on-screen, and the creepy onset of The Darkness will get under your skin every time. Voice work is well done as usual by Remedy, I just wish the lip syncing was up to par with the performances. Overall the night scenes steal the show, and thankfully, they make up over 80% of the game. If you have a nice home theater system, playing Alan Wake at night with the lights off is sure to keep you on the edge of your seat.