News: Will Dante make Deadpool cry?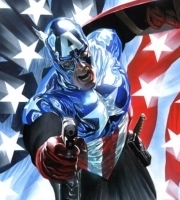 Marvel vs Capcom 3: Fate of Two Worlds resurrects a beloved fighting franchise that hasn't had a new entry in over a decade. And in that time both companies have introduced new characters that will find their way into Marvel vs Capcom 3, with several of them unveiled in the latest issue of Game Informer.

From the Marvel side, the magazine has revealed that Captain America and Deadpool will be taking up the fight in Marvel vs Capcom 3. While Captain America has appear in every previous Marvel vs Capcom game, Deadpool's newfound popularity in the 2000s made him a shoo-in for this new crossover.

Game Infromer also revealed two new fighters from Capcom's catalog of characters. The two include Felicia, a vampire-hunting catgirl from the Darkstalkers series, and Dante, the star of Devil May Cry and its sequels. Felicia previously appeared in Marvel vs Capcom 2, but Dante's debut in 2001's Devil May Cry means this is the first Marvel vs Capcom game he is able to appear in.

Marvel vs Capcom 3 will include over 30 characters when it ships on the PlayStation 3 and Xbox 360 sometime in the Spring of 2011. So more characters will likely be revealed soon.