Special: Two Final Fantasy games in one year? Whoa!
Throughout the months of March and April, Gaming Target will be posting Publisher Forecasts of what the major players have in store for 2010. Find out what's out, what's projected, and what rumors we hope come true by reading all of the 2010 Publisher Forecasts right here at GT.
Square Enix, the video game juggernaut behind such franchises as Final Fantasy, Dragon Quest, and Kingdom Hearts, is not going to disappoint in 2010. Final Fantasy XIII entered the HD era last year in Japan and back in March here in North America. It was released for both the Playstation 3 and the Xbox 360 in both regions. There's so much more to come ? Kingdom Hearts: Birth by Sleep for the PSP and Dragon Quest IX for the DS were already released in Japan and will arrive on eager American handhelds later this year. Profits were up for 2009, certainly - but what else does Square Enix have on the menu for 2010?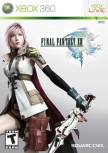 The Year So Far
Squenix has been busy. In early February, the company shipped the JRPG
Star Ocean: The Last Hope International
for PS3. Later that month,
Pony Friends 2
, a virtual pet game for the Wii, DS, and PC pranced out. In March, out came
Supreme Commander 2
, a well-known RTS series for the PC that would also be released on the Xbox 360. Shortly after that,
Final Fantasy XIII
paradigm shifted into quite a few living rooms on the PS3 and Xbox 360, the latter being available as a special edition, 250 GB console. The latest release was the late March, multi-platform release of
Just Cause 2
. So what else does Square Enix have in store for us?
Nier-ly There
April 27th (which was yesterday, actually) is when we'll finally get to see
Nier
, the much publicized action RPG coming out on the PS3 and Xbox 360. The title character searches for a cure for his daughter's illness, and along the way, he will battle with both his blade and an ample supply of spells, learning ?the truth about the disease, his daughter?and himself.? The the game is touted as having ?unbelievable story twists and reveals,? as mentioned in a modest press release. All horsing around aside (shouldn't that line have been in with Pony Friends 2?), this game does look cool and interesting and at least worth looking into if you're intrigued by what you've seen so far. And, in the vein of so many games these days, there's a tie-in comic done by Wildstorm Studios, the first issue of which is available at the Nier website.
Date Not Yet Illuminated
Square Enix Europe's Crystal Dynamics announced a new Tomb Raider game to be released later this year.
Lara Croft and the Guardian of Light
came out of the dark back in March. It will be released as a digital download and will be ?a truly original digital experience.? Other details were not forthcoming, but hopefully someone will shed some light on this one at E3.
Dog Days of Summer
This summer will see the release of
Kane & Lynch 2: Dog Days
, which should be coming out in August. This ?raw and brutal crime shooter? will be a multi-platform affair based in Shanghai, and will boast a more stylized and artful look. It will also feature multiplayer modes in addition to the campaign. The game's official site has the trailer, which showcases the new location as well as the "documentary" look.
More Summer Hits
For the PSP, Square Enix will be releasing
Kingdom Hearts Birth by Sleep
. This game is a prequel in the immensely popular series and will help explain the genesis of the story. Boasting new characters and multiplayer modes, the game promises to add ?a new depth to the Kingdom Hearts franchise.? From the sound of it, hardcore fans and newcomers alike will be thrilled to get their hands on this game, especially with the addition of much-loved Disney settings, including Peter Pan's Neverland and Lilo and Stitch's Deep Space.
The Undetermined Future
The rest of this year has the potential to fill everything from UMD drives to front-loading disc trays with more JRPGs than we can handle.
Final Fantasy Agito XIII
(?agito? literally means ?I am in motion? in Latin) and
Final Fantasy Versus XIII
are part of the Fabula Nova Crystallis, or the ?New Tale of the Crystal.? Neither Agito nor Versus have a release date as of yet, and while they are rumored as being on the PSP and PS3, respectively, the director of XIII, Motomu Toriyama, was quoted as saying the series will be multi-platform and will not be exclusive to any console. The good news is that the MMORPG,
Final Fantasy XIV
, is scheduled to be released later this year; in fact, it's already in beta testing. Those eager for the New Tale of the Crystal may have to slake their thirst at this pond for the time being. In addition, Dragon Quest fans will also be pleased to know that
Dragon Quest IX: Sentinels of the Starry Sky
is slated to come out early this summer on the DS and will be published by Nintendo in North America - as well as in Europe and Australia later this year.
The Mysterious
Front Mission Evolved
, a third-person action game, is listed as coming out this spring, but so far, not much is confirmed. Published by Square Enix and developed by Double Helix Games, this multi-platform experience is part of the Front Mission series, originally done by Squaresoft. A Parasite Eve spin-off entitled
The 3rd Birthday
is also slated to come out this year, developed with Hexadrive and exclusive to the PSP. Two Eidos Montreal games,
Deus Ex: Human Revolution
and
Thief 4
are also rumored to be coming out this year, but neither have confirmed release dates as of yet.
The Forecast
Square Enix is all over the place this year, ranging from new IP shooters to raiding tombs, and from playing some multiplayer with the criminally insane to a return to time-honored favorites in their beloved Kingdom Hearts and Final Fantasy series. There's definitely something for everyone this year, whether it be virtual ponies or paradigm shifting. One thing is certain ? I'm absolutely looking forward to seeing what Square Enix has to offer at this year's E3.