News: OK, not exactly, but he does quarterback the Top Ten List.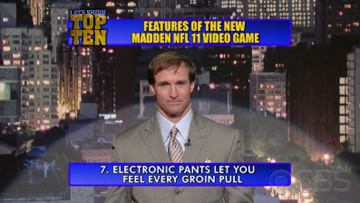 New Orleans Saints quarterback Drew Brees stopped by The Late Show With David Letterman last night to promote his selection as the cover athlete of Madden NFL 11. The Super Bowl XLIV MVP was a special guest presenter of the episode's Top Ten List, which was, not surprisingly, Top Ten Features of the New Madden NFL 11 Video Game.

My personal favorites were #8, "Everyone's named 'Ochocinco'" (bonus points for that being #8), and #7, "Electronic pants let you feel every groin pull".

All I want to know is, will EA Sports be bringing these electronic pants to E3?

CBS has posted a clip of the presentation on their website, but you can also watch it right here:



Madden NFL 11, with Drew Brees on the cover, will be coming to the PlayStation 2, PlayStation 3, PSP, Wii and Xbox 360 on August 10.

We'll have more soon.