News: Cursed, selected, it's all the same thing.





For the first time ever, EA Sports has given the fans the honor of choosing which NFL will be cursed next season adorn the cover of the next edition of Madden NFL Football. After a three-way battle between New Orleans Saints quarterback Drew Brees, Minnesota Vikings defensive end Jared Allen and Indianapolis Colts wide receiver Reggie Wayne, the Super Bowl XLIV MVP emerged victorious.

So when you go looking for Madden NFL 11 in stores later this year, here's the cover you should be looking for: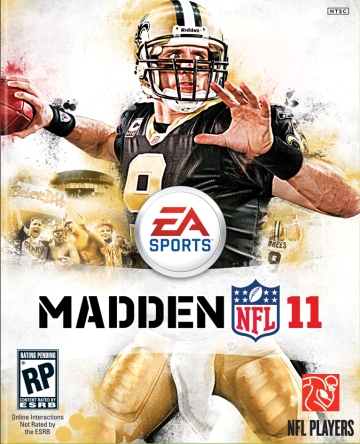 "The Madden NFL franchise holds a special place in popular culture and the cover is a coveted position for players all over the league," Brees said. "I'm honored to be the first cover athlete chosen by Madden NFL fans and it's a great way to cap off an amazing year for the Saints and the city of New Orleans."

Whether Brees' selection was just an extension of his awe-inspiring 2009-10 season or some kind of anti-vote to hoist the curse onto the Super Bowl champs is unknown.



Madden NFL 11 will be released for the PlayStation 2, PlayStation 3, PSP, Wii, Xbox 360 and the iPhone platform on August 10. According to EA, the game will undergo a transformation to make it more accessible to new players while also making it deeper for Madden veterans. EA refers to this new design philosophy as "Simpler, Quicker and Deeper"...

Simpler: Call plays like an NFL coach with ease using an all-new play-calling system, GameFlow, which executes an authentic, situational game plan for you.


Quicker: The new play-calling system will enable players to spend more time on the field and less in the playbook - completing games in half of the time.


Deeper: Madden NFL 11 is feature-rich, with improved animations and control options, enhanced online functionality, and new broadcast and audio presentation that delivers the NFL experience fans have come to expect.

We'll have more soon.