News: Not as cool as a life-size Facehugger, but then, what is?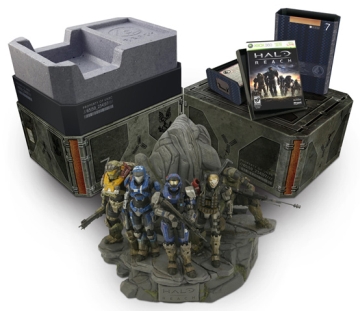 Like Halo 3 before it, Microsoft has announced that when Halo: Reach ships to stores, it'll be available in three different editions this Fall.

The Standard Edition will be the regular disc-only version. Like all other Halo games, it'll launch at a price of $59.99.

The Limited Edition will up the retail price to $79.99 and include several in-game and real world bonuses:


Game disc housed in recovered ONI "black box"

An exclusive in-game Elite armor set for use in multiplayer modes

Artifact bag containing Dr. Halsey's personal journal and other classified documents and effects that unravel long held secrets from the Halo Universe.





But if you're willing to spend a little more, the Legendary Edition (pictured above) is a must-have for any Halo fan. Sporting a retail price of $149.99, the Legendary Edition will include all of the extras found in the Limited Edition along with:


Noble Team statue expertly crafted by the artisans at McFarlane Toys. Individually molded, hand-painted and individually numbered, this statuette is a must have for any serious Halo fan

UNSC-themed custom packaging

An exclusive multiplayer Spartan armor effect

The statue weighs in at more than ten pounds and stands ten inches tall. If you have any interest in the Halo: Reach Legendary Edition, a pre-order is probably in order as Bungie says that quantities will be "very limited."

We'll have more on all things Halo soon.