News: Do, or do not. There is no try... Because Yoda would kick your ass.





In Star Wars: The Force Unleashed, Darth Vader tasked The Secret Apprentice with hunting down and eliminating the remaining Jedi. But one Jedi Master eluded Starkiller and his homicidal droid. It looks like LucasArts may remedy that oversight in the sequel.

Today, the placeholder image on the game's official website has been changed. The image now shows Starkiller standing on Dagobah... directly in front of Yoda's cave. Click on the image below to get a closer look: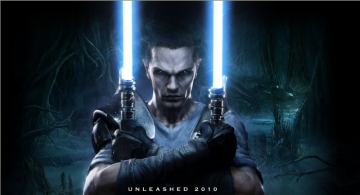 This is not the first time LucasArts has teased a different background on the homepage for The Force Unleashed II. Back in February, the Bull Rancor from the game's trailer stood menacingly over Starkiller.

All of this is no doubt leading up to an E3 (or pre-E3) reveal of the full game. In the meantime, Starkiller vs Yoda sounds like a great angle for the sequel to me.

We'll have more soon.

UPDATE: As of today (4/24), LucasArts has updated the image to show a glowing light in Yoda's cave and the entrance to the "Dark Side cave" complete with Lightsaber noises and blaster fire!