News: Starting with this week's MP7A1 Machine Pistol.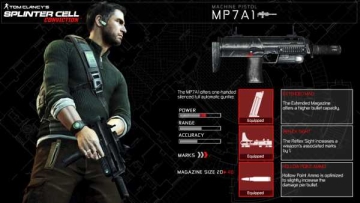 Ubisoft has announced that owners of Tom Clancy's Splinter Cell: Conviction will receive access to free DLC (as in, $0) for the game every Thursday. These mini-updates will include everything from new weapons and skins to a brand new Deniable Ops multiplayer map.

This week's freebie is the MP7A1 Machine Pistol. It includes an expanded magazine to carry more rounds and hollow point bullets for increased damage.

If you want to get in on the weekly freebies, you have to be sure to log in every week, because once an item's week is up, it's gone.

To download the weekly DLC item, all you have to do is open the Extras menu from the Start Screen, that week's item will be there waiting for you. According to Ubisoft, you also have to have an Xbox Live Gamertag (and an Internet connection, obviously).

We'll have more soon.