News: People Can Fly shows off more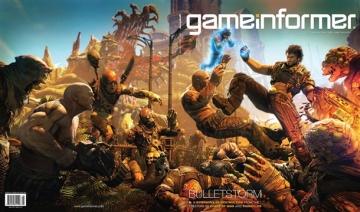 Man, Jimmy Fallon and Cliff Bleszinski just can't catch a break. On the same day that the Xbox Live Dashboard accidentally trumps their announcement of Gears of War 3, Game Informer magazine has gone and revealed their second project, Bulletstorm. Both are rumored to be making an appearance on Fallon's show this coming Monday when Epic Games designer Bleszinski is scheduled to be a guest.

Developed by Epic Games subsidary People Can Fly (the team behind Painkiller), Bulletstorm's gonzo action sounds very similar to the recently announced (and similarly named) Bodycount:


Bullet-who? The latest issue of Game Informer Magazine answers that question in a big way, with a world-exclusive look at People Can Fly's upcoming shooter, Bulletstorm. As the name suggests, players will take on hideous mutants in a flurry of lead, all the while racking up combos that encourage variety over headshot after headshot. It's impressive stuff, and after reading our 10-page feature you'll have an idea why Epic Games bought a majority stake in People Can Fly after seeing it demoed for the first time.


Whether it appears on the Late Show With Jimmy Fallon or not this Monday, Game Informers subscribers will learn more about the title in the May issue of the magazine "in the very near future."

We'll have more soon.