News: A game with a very generic name now has a very unpronounceable title.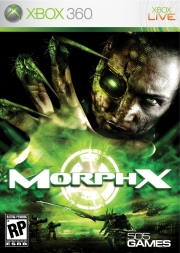 505 Games has announced that their alien shooter The Swarm will be released in stores on June 1. They also revealed that the game has been retitled MorphX, which can be seen in the official boxart to your left.

Originally released for the PC in Russia as The Swarm, the sci-fi shooter definitely has an X-Files vibe to it:


In MorphX, players emerge from an underground shelter to find their planet devastated following a hostile alien invasion. Outgunned and overpowered, it appears all efforts to fight the vicious aliens are futile. Players soon discover that the only way to defeat their enemies may be to become mutants themselves by absorbing alien DNA. As players morph into alien-human hybrids, their new powers give them advantages to battle the alien infestation.

While searching for an antidote to cure their allies, players have a variety of weapons-including firearms, clubs, plasma projectors and grenades -- for melee or ranged combat against enemies. Additionally, players will solve mini-games and puzzles, allowing for the option to absorb new abilities that make them more adept at fighting tougher enemies. Players can then build and morph alien DNA chains to improve different abilities like an increased regeneration rate, or enhanced vision.


505 has also released a new set of screenshots, which you can view at MorphX's profile page.

We'll have more soon.