News: While Kratos won't be behind the wheel, his spirit will power the car.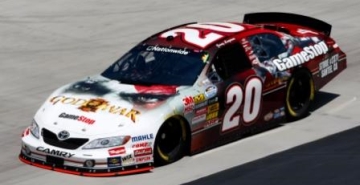 God of War III
-mania has swept the video game world this week as Kratos' final assault on the pantheon of gods was released for the PlayStation 3 on March 16. But the gods are not the only beings who should tremble in fear of him as his scowling visage will adorn Joey Logano's No. 20 car in today's Scotts Turf Builder 300 at the Bristol Motor Speedway.
Sponsored by GameStop, Logano drives in the NASCAR Nationwide Series, considered the "minor league" to the NASCAR Sprint Cup Series. The race will be televised on ABC starting at 2 PM (Eastern Time).
Due to GameStop's involvement, Logano is given a differently designed car every week. He has qualified for two previous races this season in which the No. 20 car has been transformed into other video game icons: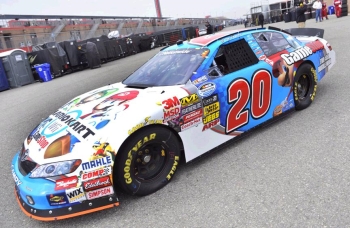 The Stater Brothers 300 was held on February 20 at the Auto Club Speedway. The car was repainted to showcase Nintendo's
Mario Kart Wii
. Logano finished in fifth place after earning the pole position in qaulifying.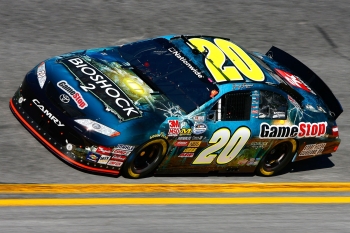 Logano started the 2010 season at the DRIVE4COPD 300 at the Daytona International Speedway on February 13. The No. 20 car was given a
BioShock 2
paint job in honor of the game's recent release. Logano finished the race in seventh place.