Special: Kratos is out to SMASH THE COMPETITION ARRRGH!
Throughout the end of February and the month of March, Gaming Target will be posting Publisher Forecasts of what the major players have in store for 2010. Find out what's out, what's projected, and what rumors we hope come true by reading all of the 2010 Publisher Forecasts right here at GT.
Thanks to redesigned hardware, a lower price, and most importantly, a wide array of killer first-party titles, Sony has managed to return from the brink with PlayStation 3. To celebrate this return to relevancy, the company has absolutely stacked 2010 with great software in nearly every genre imaginable, and plans to widen its audience with a brand new peripheral. While the PSP hasn't yet achieved the same kind of revival that the PS3 has - it does have some plans for the machine as it enters its fifth year of existence. At least, we think so. Meanwhile, the PlayStation 2, which is turning ten years old this year, continues its slow procession into the twilight of its life... and it shows. 2010 is a turning point for Sony and its three consoles, and their lineup of games is a great demonstration of that.
The Year So Far
We're months into 2010 and Sony already has four games to show for it. At the end of January, Sony unleashed their online-only shooter
MAG
, offering 256-player matches on massive maps. In early February, Sony finally delivered
White Knight Chronicles
to the west, roughly 14 months after its Japanese release. The ?International? tag isn't a marketing ploy either, as the US version includes many things that Japan had to download separately, along with more western-specific community features like improved voice chat. Just a few weeks later, the heavily anticipated
Heavy Rain
made its way to store shelves. Using Indigo Prophecy as a starting point, Quantic Dream's interactive drama is an ambitious project that Sony has heartily endorsed and supported since it was first announced. Finally, Sony just recently released the latest version of their best-selling, critically-acclaimed
MLB: The Show
franchise, continuing the tradition of keeping 2K Sports executives awake at night wishing they could go back in time to block out everyone from licensed baseball, and not just rival third parties.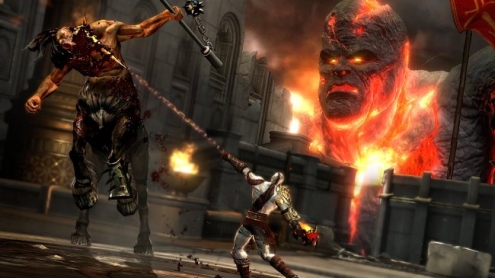 Looking Forward... But Not Too Far
The Show is the official beginning of the total insanity that we call March 2010, one of the busiest ?non-holiday? months in history. Sony of course is attending this party, with both The Show and the third entry in the beloved God of War franchise.
God of War III
is considered to be the ?end? of the Kratos trilogy, which is a better way of saying ?we just want to make sure a loophole exists for another game.? A demo just recently became available ? the same demo owners of the God of War Collection got to play months ago ? with the full game due on March 16th. Admittedly, after God of War, the calendar for PS3 releases gets a little blurry, as Sony has kept the rest of this year's releases tucked away. We do know that
ModNation Racers
will release towards the end of spring, but that's all we know. Still, five games ? three of them critically acclaimed ? within the first 90 something days of the year is pretty impressive.
Summertime and Beyond
At this point in time, Sony actually doesn't have a big summertime game like they did last year with inFamous. ModNation Racers could slip into that timeframe if it indeed releases in June, but otherwise information on such things is unknown. This fall ? hopefully ? will feature at least two blockbuster titles out of Japan.
Gran Turismo 5
has been in development for ages, and originally was supposed to be out in the spring, but now it looks like an early fall title. Perhaps it's for the best, as racing games aren't quite the draw they used to be. With such a busy Q1, it would likely harm the game despite the pedigree of being Sony's most popular franchise. Also, this fall should see the release of Team ICO's
The Last Guardian
. Since its unveiling at E3 09, TLG has gone back into hiding, but as we get closer to release it'll come back around. Though likely the most ?niche? of all Sony's 2010 games, it will definitely gather a strong following thanks to the success of ICO and Shadow of the Colossus. Sony also has it's PlayStation Eye-enabled
Eyepet
? a game that released last year in Europe ? which is tentatively a fall release. However, it could release in summer to avoid competition. Or more likely, it could launch around the time of our next bullet point. Finally,
SOCOM 4
was just announced for a fall release, giving PS3 owners yet another surefire hit.
The Mystery of the Wand... and Other Delights
The wild card to Sony's 2010 software is their new motion controller, which might be called Gem, Arc, Magic Wand, or Ice Cream Vibrator... nobody knows for sure. It was once a springtime release, but now it will launch in the fall... and that's all we know. Chances are the reason for the empty void in their software lineup revolves around the controller, be it new games that use it, old games patched to enable use, or re-releases of classic titles. It's an unknown. Rumor has it that
Killzone 3
will use the controller and be the marquee launch title, but rumors are just that, and this isn't Persona 2 where spreading rumors makes them come true. Most likely GDC or E3 will be the big blowout for their new device, along with any software pertaining to it.
On the other hand, there are many games that potentially could be out this year that have nothing to do with the motion controller. New voice acting legend Nolan North didn't blow anyone's mind when he kind of confirmed
Uncharted 3
? it would have been more of a shock if there wasn't a third Drakeventure. However, his involvement at this point hints that Uncharted 3 might be a 2010 game. This fits Naughty Dog's Jak & Daxter timeline: two years between the original and the sequel, but just one year between 2 and 3. In addition, Insomniac games ? they of the yearly release ? likely will have
Resistance 3
ready, though logically, if Killzone 3 is the motion controller launch game, Resistance could fall into 2011. Finally, Sucker Punch is working on
inFamous 2
, but the odds of a 2010 release are slim.
The PSP Go... es into obscurity?
It's been five years since the great launch of PSP, and it's been downhill ever since. Expensive hardware and games, rampant piracy, and numerous other issues have hampered the machine, and no matter how many times Sony has rebooted it or encouraged new exclusives, it's just stalled. 2009 was the last Great PSP Reboot ? releasing the digital-only PSP Go, a helping of exclusive games and solid portable renditions of others, along with improved functionality of the PlayStation Network. Alas, it didn't really help. The PSP Go has tanked, mostly due to its price, and despite the initial rush of downloadable PSP games, the selection has been poor. It might have slowed piracy for new users, but most games are still selling very poorly ? even Gran Turismo PSP hasn't made a dent, though mediocre reviews probably didn't aid the cause.
So it's no surprise that so far, 2010 is pretty bleak for PSP, even from Sony itself, who at this point has a whopping five releases for 2010 right now, but only two of them are exclusive. The PSP just received their verison of
MLB 10: The Show
, as it has every year, and it's almost as feature-packed as its console cousin. A new SOCOM game also just landed on PSP, in
Fireteam Bravo 3
. It's also getting
ModNation Racers
, though it likely won't be as robust as the PS3 version.
Eye of Judgment Legends
- a card-based successor to the PS Eye app for PS3 - is coming... soon? A demo recently showed up on the PlayStation Store but release info is hard to find. Finally, it's getting a version of
Hot Shots Tennis
, which first released on PS2 back in 2007. But... that's all we know. Obviously they have more coming ? Sony has said they have some new PSP announcements in the pipeline ? but it's a depressing picture right now. The PSP Go will likely have a price cut (something it desperately needs), and hints of a price cut to the standard PSP model are always out there, but without much software ? especially exclusive software ? the system appears to be on life support.
Going Digital
Sony has made good use of PlayStation Network on both PS3 and PSP. Though they don't release a lot of digital games, what they do release is usually top-notch. So far this year, Sony has released two download-only titles: the beautiful & realistic pool simulation Hustle Kings for PlayStation 3, and the Echochrome "sequel"
Echoshift
. A mind-bending side-scroller that features something that could be called "single player co-op", with crazy puzzles and tricky sequences that fans of Echochrome know a good deal about. Future plans for PSN are up in the air, which isn't a surprise - Sony tends to announce download games closer to their release so it's harder to keep tabs on them. The only easy prediction would be Q-Games releasing a new
PixelJunk
game - they've released one every year since PixelJunk Monsters, so it wouldn't be a stretch. Finally, Sony has been on the case of releasing PSone Classics frequently. The selections aren't always great, but they do occasionally slip out a gem, be it Final Fantasy VIII or the recent release of Grandia.
The PS2... Yeah.
The PlayStation 2 turns ten this year, and it's an astounding feat that there's even games coming out for it this year. Sony though, has just one ? the $30 roster update patch known as
MLB 10: The Show
that just hit store shelves. Otherwise, it's safe to say that PS2 is officially finished, at least in terms of first-party support. The odds of the machine even getting ports of PSP games is unlikely, if the bad retail showing of Motorstorm Arctic Edge and Jak & Daxter: The Lost Frontier are any indication ? both performed poorly. With dwindling software sales, less space at retailers, and dropping hardware numbers, Sony is sure to celebrate the 10th anniversary of PS2's release by pulling the plug. It's been a good run, but 2010 is likely the last time Sony releases anything for the console. So here's to you, PlayStation 2. Maybe you will live on as digital downloads like PSone Classics do, if Sony ever gets true software emulation up and running for PS3.
The Forecast
Sony has a big year planned (at least for PS3), but we really only know bits and pieces of it ? everything else is kept under wraps. For the most part, Sony could thrive with just the PS3 games we know are coming this year... but there are more coming, and that means even more great games for PS3 owners. PSP die-hards might sigh, and PS2 fans still hanging on to that console are likely feeling the need to leap to a ?next-gen? console even more, but PS3? It's entering its prime with a heaping helping of interesting software, new hardware, and stuff we don't even know about yet. The ?Year of the PS3? joke is definitely played out, but 2010 could be good enough to make the gag a reality.