News: That's a lot of Call of Duty.

Buy CoD 8 at Amazon for $59.99 when it releases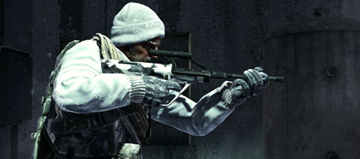 In the aftermath of a major shake-up at Infinity Ward, Activision has announced three new
Call of Duty
games as well as reconfirming that two downloadable map packs will be coming for
Call of Duty: Modern Warfare 2
in 2010. The company did not go into any details about what happened at Infinity Ward yesterday other than to confirm that founders Jason West and Vince Zampella were let go.
Are you ready, because there's a lot of new announcements.
First, Activision has announced that they will form a business unit related to the growth of the Call of Duty franchise, similar to Microsoft's
Halo
studio, 343 Industries.
While it's hard to imagine the Call of Duty series getting any bigger, Activision reconfirmed that Modern Warfare 2 will be growing later this year with two downloadable map packs. The packs are in development at Infinity Ward and it's likely more maps will follow these two as Activision refers to them the "first two" DLC packs.
Moving on to new games, Activision announced that the currently unnamed
Call of Duty 7
is in development at Treyarch and that it'll be released this Fall.
Not only that, but 2011 will see the release of two games in the CoD franchise:
Call of Duty 8
is in development at an unnamed studio and Sledgehammer Games is working on a action-adventure spinoff game (read: a
Call of Duty Third Person Shooter
). Sledgehammer is a new, internal Activision studio that was founded last year by
Dead Space
veterans Glen A. Schofield and Michael Condrey.
Finally, Activision is taking the first steps towards a
Call of Duty MMO
by announcing that "the company is in discussions with a select number of partners to bring the franchise to Asia, one of the fastest growing regions for online multiplayer games in the world."
Sound off in the comments: Is that enough Call of Duty for you?
Bookmark: Buy Call of Duty 8 here for $59.99 when it releases