FFXIII Interview: Most surreal interview moment: Making a joke. Hearing nothing but silence. Getting laughs all around the table after it's translated into Japanese. *Relief*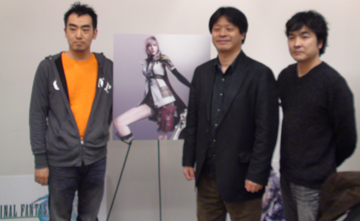 Matt Swider recently sat down with the legendary Final Fantasy XIII development team at the Square Enix offices in Los Angeles. Through a translator, he talked to Director Motomu Toriyama, Producer Yoshinori Kitase, and Battle Director Yuiji Abe. The interview sheds light on character development, details what to expect from the multi-disc Xbox 360 version, and even delves into a little FFXIII strategy on how to defeat the Behemoth King.
Gaming Target: How is Lightning, the female character, different from past female characters in Final Fantasy?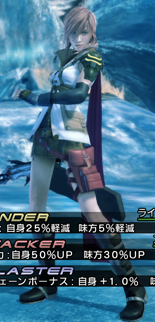 Motomu Toriyama, Director:
In the past Final Fantasy titles, female characters in the leading role have traditionally been very feminine, kind of a girl-you-want-to-protect type of existence. For Final Fantasy XIII, Lightning is not only beautiful, but she's very strong. She has this independence. In battle, she's very graceful in her movements, but she's very powerful and she's very speedy. So, her strength and her independence are the major differences with the past female characters.
Gaming Target: FFXIII is coming to a new PlayStation system and Xbox 360. For players who are picking up the series for the first time since FFVII or FFX, what can they expect having not played it for a while?
Yoshinori Kitase, Producer:
With every Final Fantasy title, the teams behind them have the goal of creating a new game. The story and the characters are completely separate, so you don't really need to have played a previous Final Fantasy to enjoy the next. Especially with Final Fantasy XIII, the battle system is completely renewed. It's something that's different from what Final Fantasy fans may be used to. Because it's so new, it might take fans some time to get used to. But, they've placed a lot of tutorials in the earlier portions of the game and placed a lot of steps.
What you can do in battle is very limited in the beginning. It expands gradually at a good pace so fans and newcomers alike should be able to enjoy the battle system fully by the time they get into the mid or later sections of the game.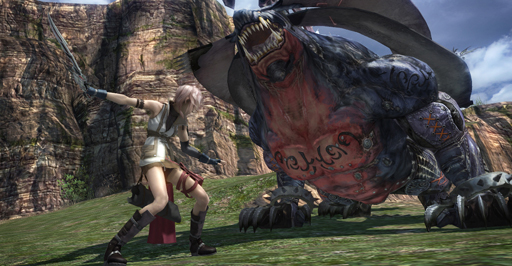 Gaming Target: About the battle system, how has it evolved? Also, we were told during our demo that maybe there's a trick to getting around the Behemoth King?
Yuiji Abe, Battle Director:
[Laughs] To answer the first part about how the battle system is different, it's evolved in many different ways. The main difference is the new paradigm system that you can implement in Final Fantasy XIII. I'm sure you've experienced it a bit. You can change the rules of the characters and also shift the formations of those roles through these paradigms. So, that takes away a lot of the micromanaging of having to put in the command for each different ability of each character and makes the battle a lot more fast paced. There's a lot more speed and action to the system, so a major difference.
[Laughs] And, some advice on the Behemoth King. The best way and fastest to defeat him: There's a point in battle when his HP decreases to a certain point, he recovers himself completely and kind of stands up. Before he reaches that point, it's best to chain your attacks and stagger him before he stands up, and then from there just continue with some aerial attacks. Launch him and don't let him land and just kill him in the air.
Gaming Target: Yeah, I noticed him healing himself.
Yuiji Abe:
[Laughs]
Gaming Target: Since the game is going to be on Xbox 360, were there any limitations going with the DVD disc format? How many discs will there be for for Xbox 360?
Yoshinori Kitase:
The 360 version will be on 3 dual-layer DVDs. The development team created the PS3 version first, of course, but they didn't alter the content at all in order to bring it to the 360. It's the exact same experience and the same gaming experience that they had set out to create is present on both the PS3 and 360 versions. Graphics wise as well, they're comparable there. There's no difference there in the experience. And, I guess the only minor difference would be the fact that for the 360 version, you have to switch out the discs every once in a while. But even that, too, the team was careful to make it so that it's not something the players feels stressed about because they'd have to keep swapping it. It's two points in the story, good stopping points where they can switch the discs, so it should be a good transition.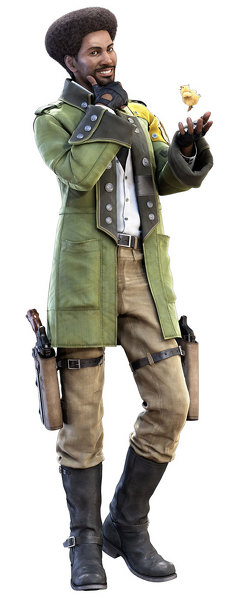 Gaming Target: Who was the most interesting character to create when you were coming up with characters in the beginning?
Motomu Toriyama:
One of the characters that was most interesting to create was Sazh. He's the guy with the Afro and the chocobo in his hair. He's a different character; there's no one like him in the past Final Fantasy titles. He's an older, male character. On the surface, it might look like he's there for comedic relief with that chocobo living in his hair and everything, but he has a serious side to him and, in that sense, is a very dynamic character. He's a father and one of his struggles within the story is in dealing with his love for his son Dodge. I don't know how familiar you are with the story there, but he has this side to him that's very much serious and so he's very well balance and an interesting character.
Gaming Target: How many drafts or reworkings of the main character, Lightning, did you go through before you finalized what you wanted her to be about?
Motomu Toriyama:
Design-wise, her look is not that far off from the original design that [Character Designer] Tetsuya Nomura came up with. It was a wonderful design when he first came up with it. There wasn't much to change. Of course, there are details like her pendant, her clothing that were tightened up later on. But, she hasn't changed much visually.
As far as her personality goes, the concept at the start was, of course, to depict a strong female character. So, that was always there. In the beginning, though, her strength was a lot more apparent. It came on a little bit strong. She didn't care as much for the other characters. She was a little rougher around the edges. But, as the story developed, Tetsuya Nomura really wanted to be a little more careful about depicting the softer, compassionate side. So, she developed that way more fully into a character.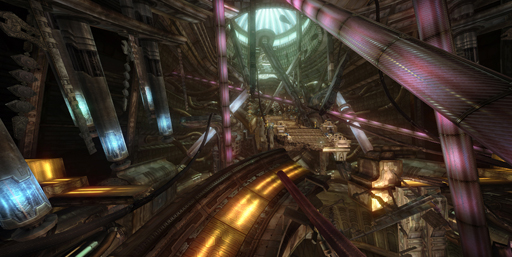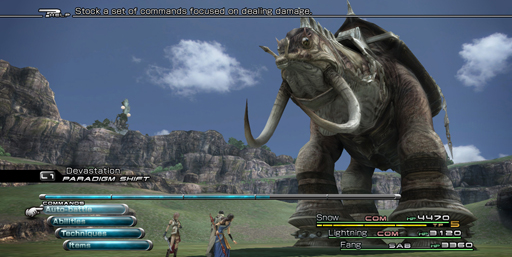 Gaming Target: What are the different environments and how much time do you spend in them?
Yoshinori Kitase:
Many different types of fields exist in both the Cocoon area and the Pulse area. Cocoon is more of the man-made, technology-heavy side. It's a city that was created within a planet. There are different types of those futuristic environments there. Pulse is more of the outside world. There's more nature and organic fields. As far as how much time you spend in each environment, Cocoon is where the bulk of the story takes place. You might spend 20 hours there. You go out to Gran Pulse for a few hours and then go to Cocoon as well. If you just play straight through the story, that's how your time will be allocated, but in Gran Pulse, that's where all of the free missions take place, so you can spend forever there if you felt like it.
Thank you to Yoshinori Kitase, Montomu Toriyama, Yuji Abe, the wonderful translator, Amelia, and all of the PRs involved in setting up this fantastic interview experience.