News: He's got an arm cannon and he fights six "robot masters"!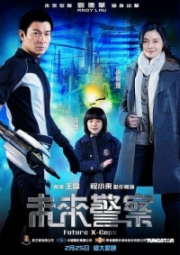 The Capcom-Unity blog has posted a trailer to an upcoming Hong Kong film that may be the closest thing we ever get a live-action Mega Man movie.

Titled Future X-Cops (Mei loi ging chaat), the movie features evil oil executives sending six cyborgs back to the year 2010 to kill a scientist who develops a viable solar energy. The cyborgs each have their own distinctive power (including a "Dragon Man", a "Bat Man" and a guy with a really big arm cannon attached to his wrist) and they lay waste to everything.



The only man who can stop them is a futuristic cop (Andy Lau,

House of Flying Daggers

) who runs around in a suit of armor that looks very reminiscent to

Mega Man X

. As you can see from the poster to your left, he's also packing an arm cannon of his own. Finally, he flies around in a hovercraft that could easily double as the Rush Jet from

Mega Man III

(quoth Capcom's Chris Kramer: "So help me god, if it turns out that little scooter thing at 1:08 turns into a robot dog, we're suing.").

Please don't sue Capcom, I need to see this movie! Future X-Cops will be released in Hong Kong on February 25 with an Americn release hopefully to follow (pretty pretty please!). You can check out the awesomely ridiculous trailer right here:

This will make the perfect double feature with

Mega Man 10

when it's released for the PS3, Wii and Xbox 360 in March.