News: Complete with 16 pages of art from the game.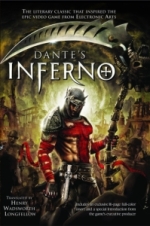 While it would be an understatement to say that Visceral Games' adaptation of "Inferno" took some artistic liberties with Dante Alighieri's epic poem, publisher EA Games is still attemtping to tie the game in with a new edition of the book.

Published by Del Rey, the new trade paperback version of the first part of The Divine Comedy will be released on January 19. Titled Dante's Inferno to match the game, the book will borrow its cover art from the game, but the text inside will be the original American translation of the poem by Henry Wadsworth Longfellow. The book will also include a 16-page insert showcasing art from the game (specifically how the poem's devils and demons were adapted for the video game) and an introduction by the game's Executive Producer, Jonathan Knight.



?We are so grateful to have the opportunity to work with Random House on this project. Through the creative process of developing this game, we have grown quite close to the literary works of Dante Alighieri. It is his vision that we are adapting for this new media, and new audience,? said Jonathan Knight, Executive Producer at Visceral Games. ?The game is a celebration of Dante, and we hope gamers will be encouraged to go beyond the game and explore the classic text that has inspired us so deeply.?

Dante's Inferno will be released for the PlayStation 3, PSP and Xbox 360 on February 9.