News: EEDAR is at it again.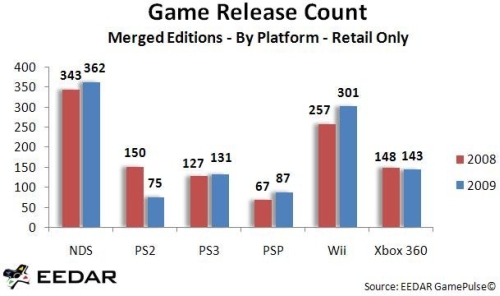 Jesse Divnich, an analyst from Electronic Entertainment Design and Research (EEDAR), recently spoke with
GameSpot
about the number of game releases in 2009 and what we can expect from that number in 2010.
In total, 1,099 were released in 2009. Almost exactly the same number of games were released in 2008, 1,092, but as you can see from the chart above, the platform breakout was very different this year.
Owing to the continued popularity of the DS and the Wii, both of those systems received an increase of games in 2009. The PlayStation 3 and Xbox 360 held steady while the introduction of the PSP Go spurred gains for Sony's handheld. The biggest year-to-year change was the PlayStation 2's 50% drop. After ten years, it looks like the old girl doesn't have much life left in her. But a variety of publishers still have new PS2 releases planned for 2010.
Speaking of 2010, according to Divnich, EEDAR expects the number of game releases to drop 5-8% next year (for a total of 1,044-1,011). The analyst claimed this drop would come about because of "industry consolidation and peak release trends from previous console generations."
Considering the fact that the PS4, Wii 2 and Xbox 720 haven't even been announced yet, I think it may be a tad premature to say this generation of consoles has "peaked". Furthermore, the large number of titles delayed into 2010 means that over 500 games are already on the schedule for release next year. And that number is sure to grow once the calendar actually turns over to 2010. If I had to guess, I'd say that 1,200 new releases is not out of the realm of possibility for next year.
Divnich also said that he expects publishers to take more chances on digital distribution in 2010 due to the shrinking amount of shelf space for new games. And with a lot of 2010's big hits already preordained, I think he may be right. With new games in major franchises like
Final Fantasy, God of War
and
Halo
getting released in 2010, smaller publishers will have to find new ways to compete.
Whatever happens, you can be sure Gaming Target will be there to cover all of the biggest (and all of interesting) new releases in 2010.