News: Capcom brings the Blue Bomber back for another round of retro goodness.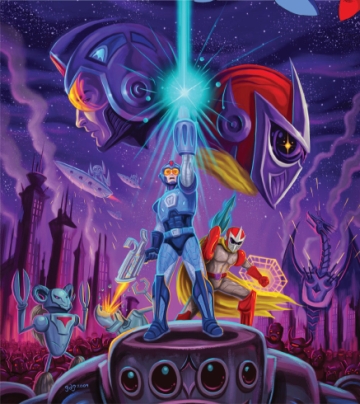 When the January 2010 issue of Nintendo Power hits newsstands on December 22, it will celebrate the magazine's 250th issue with a list of 250 Reasons To Love Nintendo. Much more importantly, it will also reveal the existance of
Mega Man 10
.
Once again done up in a classic 2D side-scrolling, 8-bit art style (and featuring another awesomely retro box art design), Capcom will be bringing Mega Man 10 to the WiiWare service sometime next year. The box art was created by Gerald De Jesus, the same artist who designed the similarly awesome
Mega Man 9
box. NintendoPower.com has posted a
one page tease
of the preview, which sheds a little light on some of the game's new features and the storyline.
This time around, Mega Man will be battling to find a cure for a robot virus known as Robotenza, which "causes 'bots to overheat and go out of control." Much like the Hate Plague found in the old Transformers episode "The Return of Optimus Prime". Thankfully for the Blue Bomber, he won't be searching for this cure alone as Proto Man will be a playable character from the get go. A third character will also be selectable, but Capcom (and Nintendo Power) are remaining mum on his or her identity for now.
The article has also revealed one of the game's bosses, Sheep Man (yes, really). The Robot Master wields the powerful Thunder Wool, a gun that fires fluffy clouds into the air that then blasts the ground with lightning. Other confirmed levels include a vertical climb past a series of lava pools (indicating some fire-based boss), a computer-themed level (complete with evil mouse pointers) and an ice-based level.
Finally, if the punishing difficulty of Mega Man 9 was too much for you, the Nintendo Power preview has revealed that Mega Man 10 will have an Easy Mode.