News: And pre-ordering the Ultimate Edition gets you early access to the demo starting today.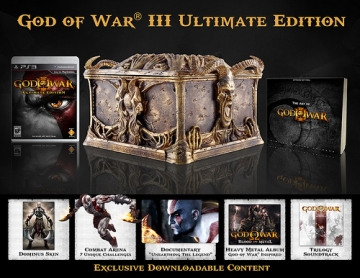 Sony's
PlayStation.Blog
has blown the lid off of the
God of War III
Ultimate Edition... quite literally in fact. For $99.99, gamers will receive a copy of the game and the following items packed inside a "high-end" sculpted replica of Pandora's Box:
The Art of God of War, a limited edition art book featuring exclusive art, content and interviews.

Downloadable "Combat Arena" map, containing an exclusive environment and seven challenges.

"Dominus" downloadable in-game skin for Kratos.

God of War: Unearthing the Legend, a downloadable full-length movie documentary depicting the history of the God of War franchise.

God of War Trilogy Soundtrack, a downloadable MP3 album containing the scores from all three games in the trilogy.

God of War: Blood and Metal EP, a downloadable MP3 album containing original heavy metal music inspired by the God of War franchise.





While all of that stuff is pretty neat, the best part of the Ultimate Edition package will only be available for those who pre-order the game. Those that pre-order God of War III at select retailers will receive a voucher code to download the God of War III E3 2009 Demo starting today. While those select retailer were not named, pre-ordering the game from Amazon, GameCrazy or GameStop will net you access to the demo today and an exclusive, downloadable in-game skin when the game is released.

But if you don't feel like pre-ordering, Sony is giving away a limited number of voucher codes to download the demo today. All you have to do is be a member of the "Spartan Army" on GodofWar.com and remember to keep checking your email to see if you've won.

God of War III is in development at Sony Santa Monica Studios and will be released in March 2010.