News: Rockstar hints at the future of the GTA series in the Episodes From Liberty City booklet.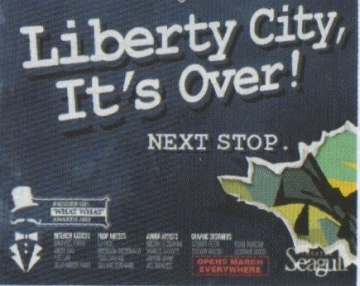 The second and final expansion to
Grand Theft Auto IV
,
The Ballad of Gay Tony
, was added to the Xbox Live Marketplace today. The game was also packaged with the first expansion and released to stores as
Grand Theft Auto: Episodes From Liberty City
. And on the back page of the Episodes instruction booklet, Rockstar has bid adieu to Liberty City.
The back page is supposed to resemble a movie poster (the full poster can be seen by clicking the above image) and, as you can see, Rockstar is saying "It's over!" to Liberty City while hinting at the franchise's "next stop". Those hints include the phrases "Opens Everywhere March" and "Seagull Theatre". There is also a cartoonish image of trees and a mountain in what is supposed to be a tear in the poster.
It's fairly unlikely that Rockstar will have
Grand Theft Auto V
(or whatever it's called) out by March. It's more likely that "Opens Everywhere March" is referring to the date the sequel will be announced.
The "Seagull Theatre" is also a clue, but it could lead amateur detectives down two very divergent paths.
Grand Theft Auto: Vice City
was heavily advertised using The Flock of Seagulls' song "I Ran So Far Away". But, there is an actually Seagull Theatre located outside of London, which may point to a sequel to 1999's
Grand Theft Auto: London, 1969¤
.
Speculating on what trees and a mountain means (if that's even what they are) is only going to complicate things further.
So there you have it, that's all we know about the next Grand Theft Auto game. Which is nothing, except that it won't take place in Liberty City.
We'll have more soon.