News: Lego Batman + Pure + Xbox 360 Elite = bundle fun. Also, a really good deal on wireless controllers.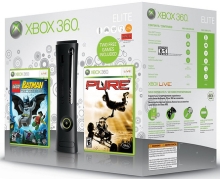 Every year, Microsoft puts out a special Xbox 360 "Holiday" bundle and this year is no different. Today, the company announced that the Xbox 360 Holiday 2009 Bundle will include a 120GB Xbox 360 Elite console and the games Lego Batman and off-road racer Pure. The new bundle will be available at online retailers and retail stores soon for the standard Elite price of $299. And don't forget the $50 rebate Microsoft is offering if you purchase an Xbox 360 Elite system before October 5.

Microsoft is also putting out a second controller bundle dubbed the Xbox 360 Wireless Controller Game Pack. The package will include a black wireless controller and download tokens for four Xbox Live Arcade games: Geometry Wars: Retro Evolved 2, Lumines Live!, Bomberman Live! and Ms. Pac-Man. The best part of the bundle is that it's priced at just $59.99, only $10 more than a wireless controller that doesn't come with any free games.

The Xbox 360 Wireless Controller Game Pack will be available in November while most retailers should have the Xbox 360 Elite Holiday 2009 Bundle in stock today.

We'll have more soon.