News: $199 this Sunday while Mario returns on November 15.





After weeks of rumors, Nintendo has finally officially announced that the Wii will be receiving a price drop this Sunday, September 27. Nintendo's little console-that-could will now retail for $199 in a package that contains everything the $250 edition did: the Wii console, a Wii Remote, a Nunchuk and a copy of Wii Sports. The price cut brings the Wii back in line with the similarly-priced Xbox 360 Arcade and makes it $100 cheaper than the PS3 Slim.

So if you were thinking of buying a Wii, now (well, Sunday) is definitely the time to buy.

"Wii has reached more video game players than any game system before because it attracts everyone?both men and women, and people of all ages," said Cammie Dunaway, Nintendo of America's executive vice president of Sales & Marketing. "Our research shows there are 50 million Americans thinking about becoming gamers, and this more affordable price point and our vast array of new software mean many of them can now make the leap and find experiences that appeal to them, whatever their tastes or level of gaming experience."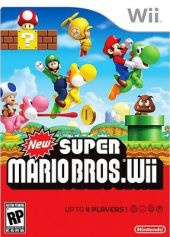 If you've already got a Wii, Nintendo has remembered you as well with news of a release date for
New Super Mario Bros. Wii
. The first side-scrolling Mario game in almost 20 years is ready to go and will arrive in stores on November 15. The game also brings co-operative multiplayer (for up to four people) to a Mario game for the first time. I am ridiculously excited about it (and check out the game's official boxart to the left, doesn't that just look great?).
Two other games that had a vague "Fall 2009" launch window have also been given solid release dates:
Pro Evolution Soccer 2010
and
Lego Indiana Jones 2: The Adventure Continues
. Konami's next soccer simulator will be released on November 3 while Indiana Jones will search for a Crystal Skull made of bricks on November 17.
We'll have more soon.