News: Do you think Nintendo knows how to make gamers "very, very happy"?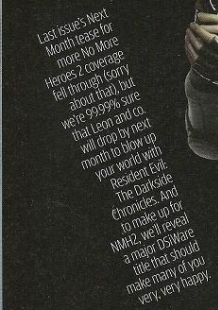 The "Next Month" page in Nintendo Power is usually nothing more than a big tease. Cryptic clues and big promises that inevitably lead to announcements that don't quite match up with what gamers were hoping for. The October 2009 issue of Nintendo Power is no different.

After apologizing for the lack of No More Heroes 2 coverage in the current issue, the "Next Month" page promised that the November issue would include the reveal of "a major DSiWare title that should make many of you very, very happy."



This kind of pronouncement is purposely vague, but it does rule out the hopes of a portable Virtual Console dedicated to Game Boy/Game Boy Color/Game Boy Advance games. However, who's to say that it can't just be a single GBA game, reformatted for the DSiWare service? I know it's asking a lot, but could Nintendo finally be cooking up a

Mother 3/Earthbound 2

port for the long suffering masses in America?

Probably not, but the game is routinely at the top of the Reader's Most Wanted polls regularly featured in the magazine. So the editors of NP know that that announcement would make many of us "very, very happy" indeed.

Even if it's not Mother 3, the wording suggests that this "major DSiWare title" will have some name recognition and likely come from a beloved franchise. Whether that franchise belongs to Nintendo or a third-party (can you say

Mega Man 10

?), remains to be seen.

The November 2009 issue of Nintendo Power will hit newsstands in early October. We'll have more soon.