News: Get it for $299 starting tomorrow!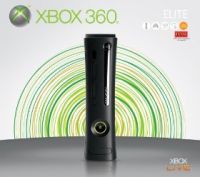 After all of the rumors and innuendo, Microsoft has offically announced that the Xbox 360 Elite package will receive a price drop of $100. Starting tomorrow, August 28, the Elite will be sold for $299.99, the same price as the recently released PS3 Slim.

The Elite, which is packaged with a 120 GB hard drive and is available in a black finish, will be replacing the Xbox 360 Pro model, which Microsoft plans to phase out. To help clear out the stock of the Pro, Microsoft is dropping the price on that model to $249.99. The Xbox 360 Arcade package will remain priced at $199.99.

It also appears that, for the moment, Microsoft will be suspending the practice of bundling games with the Elite system, as you can see in the new box for the Elite to the left. Previously, the Holiday 2008 Elite bundle came packaged with Kung Fu Panda and Lego Indiana Jones while the "Games of the Year" Elite bundle came with Fable II and Halo 3. So if you're in the market for an Elite tomorrow, be sure and pick up one that comes bundled with two free games.



It's possible Microsoft may announce a new "Holiday 2009" bundle as we get closer to Christmas. Also interesting to note is that the company has begun to tout Project Natal as a part of teh Xbox 360's near future in their press releases. Could it be coming sooner than we thought?

"With the holiday season right around the corner, it's already time to start looking for entertainment and gifts that everyone will enjoy," said Shane Kim, corporate vice president of strategy and business development for the Interactive Entertainment Business at Microsoft Corp. "If you're looking for deep experiences that don't require deep pockets, now is the time to purchase an Xbox 360. We've got the best games, a vast library of TV shows and movies, new music experiences, more ways to connect friends and family, and so much more on the horizon including 'Project Natal' -- no controller required."

We'lll have more soon.