Special: Michael Jackson 1958 - 2009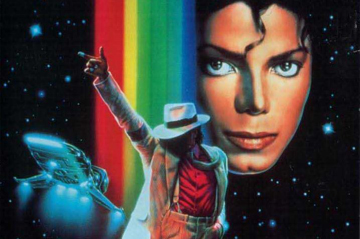 Michael Jackson was rightfully dubbed the "King of Pop" in 1989 by Elizabeth Taylor after two decades of creating some of the most infectious music of all-time. But he also dabbled in the video game world over the years. In addition to being a collector of vintage arcade games, he appeared in a handful of games in off the wall situations such as a boxing ring and as the head of an intergalactic party channel.
It all started in 1990 with
Michael Jackson's Moonwalker
, an arcade game created by Sega where Jackson used "Dance Magic" to make gangsters explode while on a quest to save kidnapped children from Mr. Big. In addition to Dance Magic, the game also featured an appearance by Bubbles the Chimp, who would transform Jackson into a robotic version of himself with eyes that shoot laserbeams. The game would later be one of the featured titles for the Sega Genesis, sans Bubbles.
The game was one of the first to make use of digitized versions of real music, recreating some of Jackson's biggest hits ("Bad", "Thriller", "Beat It", "Smooth Criminal", "Billie Jean" and others) in MIDI form.
Jackson would continue his partnership with Sega years later with
Space Channel 5
on the Dreamcast. Taking the role of "Space Michael", he used his dance moves and singing voice to help Ulala (an intergalactic party reporter) take down hostile aliens and save Space Channel 5. He would also appear in the 2003 sequel in an expanded role as the head of Space Channel 5.
Jackson's final video game appearance was in the 2000 game
Ready 2 Rumble Boxing: Round 2
. He appeared as himself and practiced the sweet science against such real life celebrities as Bill Clinton, Hillary Clinton, Shaquille O'Neal and Michael "Let's Get Ready to Rumble!" Buffer himself.
In the days before his untimely death, rumors ran roughshod around the Internet that
a new game starring Jackson was in the works at his MJJ Productions company
. According to the rumor, the game would have been released by the end of the year on the PlayStation 2, PlayStation 3 and Wii. Even if the rumors are true, it's likely that we'll never know for sure if the game was ever in production.
For all his weirdness, Michael Jackson completely changed the world and I'm not sure you can truthfully say that about many people. He will be missed in the video game world and everywhere else.